"We want to supply medical care services with more types of equipment"
There are supply shortages in medical care. "LTH wants to help. X-Lab is trying to find production managers for protective clothing, not least long-armed aprons in single-use plastic", says Charlotta Johnsson, vice-dean for collaboration and innovation at LTH.
Tiina Meri – Publicerad den 8 April 2020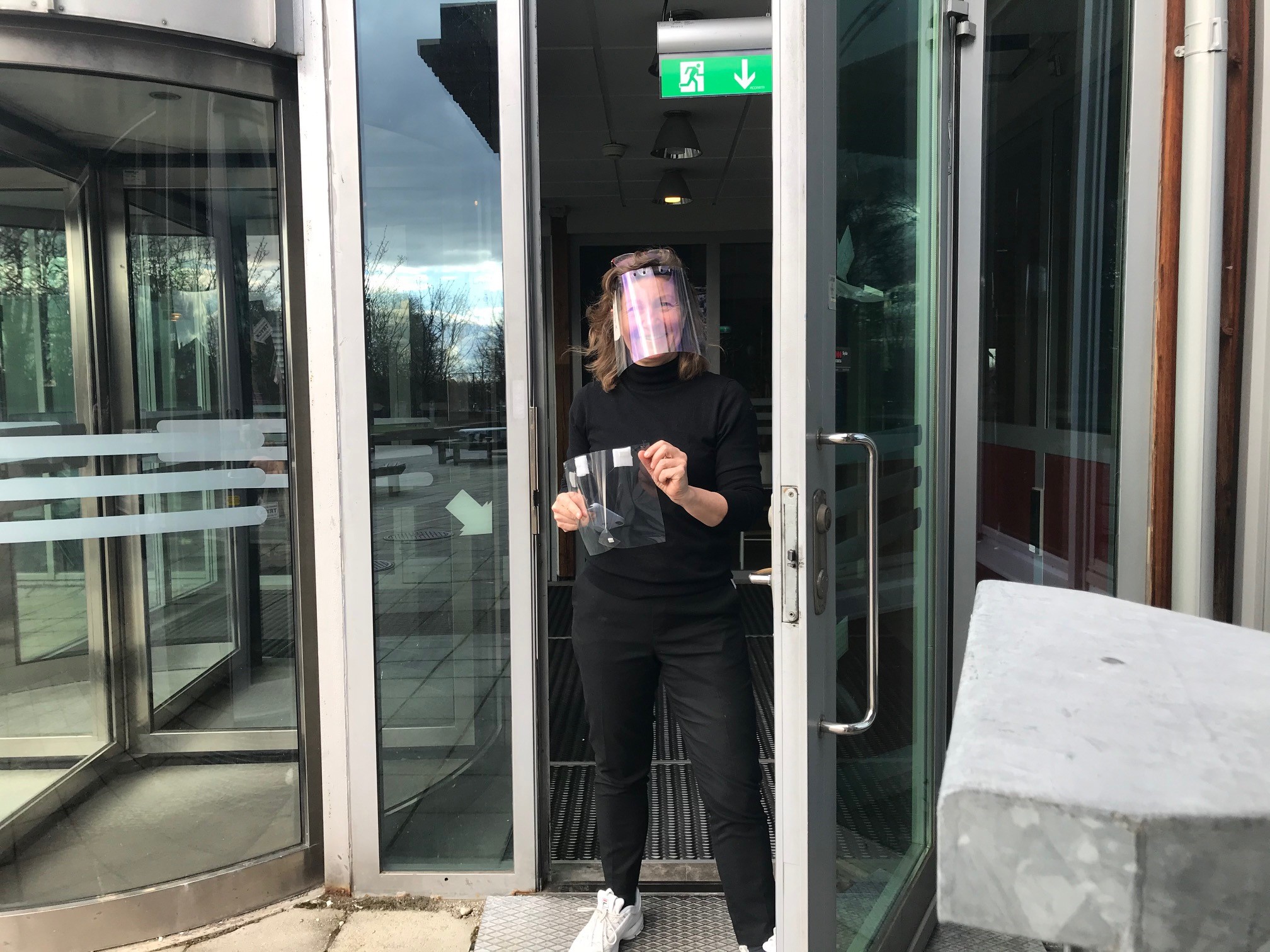 What are you doing at X-Lab right now?
"We have production evenings several times a week to produce visors for Skåne University Hospital (SUS). Last night, we made 736 in two hours."
How many people are involved?
"We have set an upper limit of 20 people at the same time at the X-Lab premises. Of course, we don't want to sit close together due to the risk of infection. Anyone who feels the slightest symptoms is not to come, and we observe special rules during production, like sanitising everything and using visors while we work."
What will you be making more of now that the coronavirus is continuing to spread?
"We will continue visor production for as long as the medical care services say there is a need. This may change when large-scale production for SUS gets underway elsewhere, and then instead we can produce for others who have a need, such as elderly care facilities and similar. However, we have started to look at fluid-resistant face masks that meet normal safety requirements. We keep in contact with SUS centrally, we test protection devices in the aerosol lab at LTH and we are working on both design and a simple production process."
When can the face masks be delivered to medical care services?
"I hope that production will be underway in one or two weeks. We will have to start with face masks, as the proper respiratory masks are harder to make. We want to supply medical care services with more types of equipment. Protective clothing is another thing that we are talking about at the moment and trying to find some production managers to be driving forces in this, not least for long-armed aprons in single-use plastic."
Who can help you at X-Lab during the crisis?
"Volunteer LTH students and staff, and also alumni, can sign up via a link on our website. Those who have been a few times can then become production managers – we need more fantastic students and staff members who can lead different evening sessions. There also needs to be more of us, in case some of us become ill. In that event we do not want production to be halted."
Where does the material come from?
"We have received overhead transparencies, 3D-printed frames, elastic, tape and many other things from several companies and we would be grateful to receive more. But everyone in society can help to collect the material that is needed. Right now, we need overhead transparencies, and our website provides details about how you can hand in, or send in, material. We also need large and small plastic sacks for transporting the visors to the hospital."
Are you feeling exhausted?
"Not yet. I really want to emphasise the strong teamwork that exists. Students and researchers coordinate with medical care services, solve different problems, develop prototypes and answer questions. X-Lab has got off to a flying start, but everything has not been as we planned it. Activities that are not related to the coronavirus will have to wait until the autumn."
When you are ready – can others have access to blueprints and guides?
"We are sharing, of course, with industry and those interested in DIY. Regarding visor production, we have already published instructions for how to 3D-print the frames. And there really needs to be many more of us helping the medical care services in Sweden right now."