New prize rewards innovative dissemination of sustainability research
The new Lund University Agenda 2030 Award wants to promote innovative and interdisciplinary research on sustainable development by early career scholars at the university. Alexandra Nikoleris is the first winner and is praised for her innovative work in designing creative and sustainable future scenarios.
– Published 5 May 2022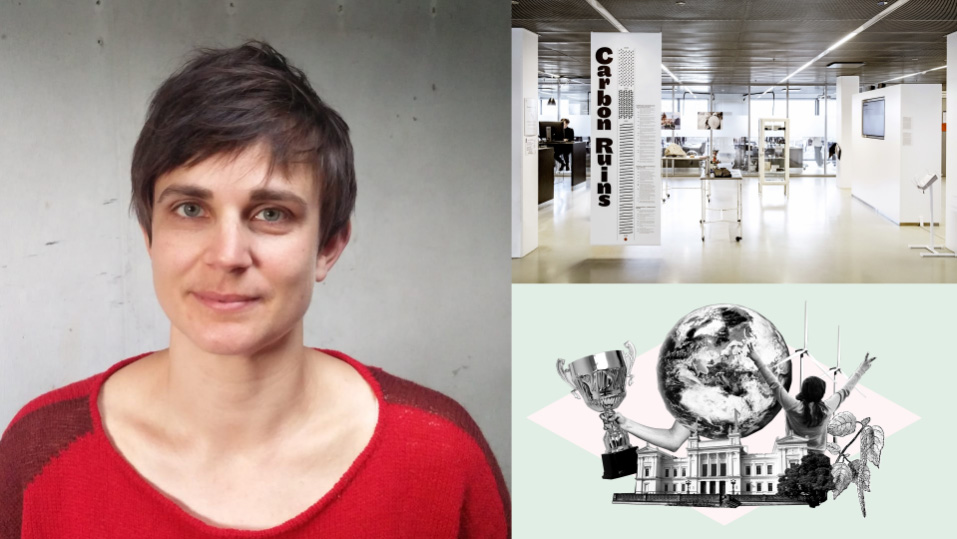 In addition to the honour, Alexandra Nikoleris receives 25,000 SEK. The prize will be awarded on Thursday 5 May during a ceremony during the Lund Sustainability Week . The award is aimed at researchers in the early part of their careers and is a collaboration between the Agenda 2030 Graduate School at Lund University and Elis Textil Service AB.
Stories as tools for sustainable visions
The first laureate, Alexandra Nikoleris, Associate Senior Lecturer in Environmental and Energy Systems at LTH, Faculty of Engineering has, often together with colleagues, worked to increase our understanding of how stories can be used to create and increase our engagement with possible future scenarios.
Alexandra Nikoleris was one of several researchers who developed the Carbon Ruins exhibition, which has shown thousands of people around the world what a fictional future might look like where the transition from a fossil fuel society has already taken place. She also co-initiated a climate fiction competition, AnthropoScenes, which has received fictional stories from around the world. On a more local level, Alexandra Nikoleris has used artistic methods to understand and predict local visions of the future in Västmanland and to create a book club for climate fiction for researchers at Lund University.
"I think a lot of people are looking for ways to engage with the climate issue but they don't know how, let alone imagine what a desirable future would look like. By bringing together different stories, people have been able to take their place in the transition and focus on what they think is important and desirable," says Alexandra Nikoleris.
Eye-opening ways to disseminate research
Alexandra Nikoleris says that many people who visited the Carbon Ruins exhibition felt relieved that they experienced the fossil-free future as very different, but not bad. For others, it was an eye-opener about how deeply involved we are in a culture built on fossil fuels.
She believes that innovation and interdisciplinary collaboration are always important in research, but particularly important in sustainability research.
"We really need to pay attention to what matters to people and at the same time find ways to think beyond today's society if we want to develop a more sustainable future. Recognising that both emotional engagement and scientific development are needed in this process is crucial," says Alexandra Nikoleris.
Two honorary mentions reward architecture and podcast
Two honorary mentions related to the new prize are awarded to researchers from other disciplines at the University. PhD student Ana Goidea from the Department of Architecture and Built Environment at LTH receives an honorary mention for her project Protomycokion and her work on an architectural prototype made of 3D-printed wood fragments connected by living fungal mycelium. Ana Goidea has thus combined her own field of architecture with biology, computer science and 3D printing.
An honourable mention also goes to postdocs Steven Curtis and Sofie Sandin Lompar and PhD students Frans Libertson, Katherine Shabb and Karolina Södergren at the International Environment Institute (IIIEE) for their innovative way of sharing scientific knowledge with a wide audience through the podcast Advancing Sustainable Solutions. The podcast is interdisciplinary, engages both scientists and other societal actors and has a reach of 40,000 downloads over 27 episodes.