Professor of Nanoelectronics: "Sweden can make a leading contribution to future semiconductor technologies"
In Lund you can find world-leading research in circuit design, new materials and algorithms that utilize the properties of semiconductor components. Here you can also find a strong infrastructure for basic research and new innovations, together with close co-operation with industry. For LTH and Lund University, this means an opportunity to be an important part of the ambition to make Sweden a nation at the forefront of developing the next generation of semiconductor technologies.
Jonas Andersson – Published 22 February 2022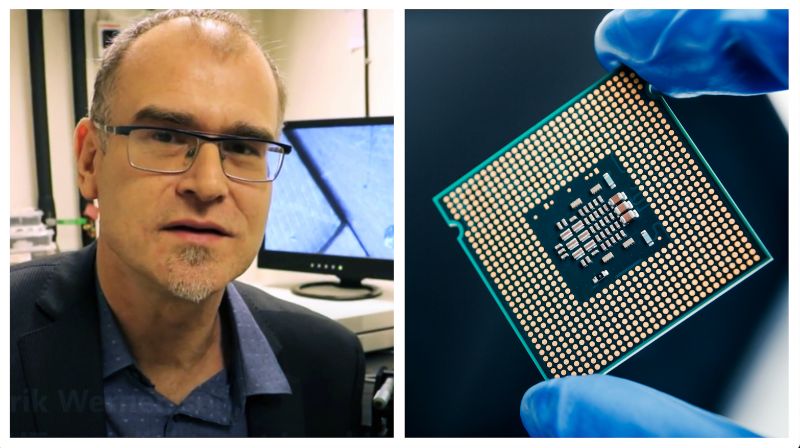 This is the opinion of Lars-Erik Wernersson, Professor of Nanoelectronics at LTH, who sees great opportunities to develop new semiconductor technology that benefits Swedish industrial companies and can especially contribute to a green transition.
In recent months, many people have probably heard about the lack of semiconductors, which has created problems for many companies. Semiconductors are an important part of all modern electronics, and are found in most computer chips, which are used in everything from mobile phones and computers to cars and refrigerators.
Opinion article 15 February 2022: "Sweden must invest in the development of new semiconductors" – on the website of Dagens industri (in Swedish)
At the same time, there is a geopolitical debate. Many of the most advanced computer chips are manufactured in a few places in the world, including Taiwan. There are many in the US and Europe who want to also see manufacturing at home to ensure a stable supply of components.
"I think it's important that there is production in Europe, but manufacturing doesn't have to be in Sweden. Instead, it is important to work closely together, both in Europe and globally, to be able to both develop and manufacture the best components," says Lars-Erik Wernersson.
At LTH there is a lot of research related to semiconductor technology. It concerns circuit design as well as new materials and programming of new algorithms that control the function. These include new materials in the form of nanowires manufactured in what is referred to as the III-V area, and new circuit design to be used in future 6G networks, for example.
"Circuit design has long been an area in which Lund excels, especially in mobile telephony and telecom, with Bluetooth being the most classic example. There is also robust research on new materials, such as alternatives and complements to silicon which is most common today. The combination and integration of different technologies is becoming increasingly important and heterogeneous integration is an opportunity to add functions such as optoelectronics or sensors, in addition to the regular scaling of transistors. The region is an international player and Lund University is the hub."
"NanoLund is successful in terms of new materials and functions, and there is also an increasingly strong infrastructure at Brunnshög with facilities such as Max IV, the upcoming European Spallation Service (ESS), and a larger nanolab. The combination of circuit design and nanocomponents adds a new aspect where Lund stands out," says Lars-Erik Wernersson, who highlights the ecosystem that already exists between the University and different companies."
The four areas that he thinks are important for Sweden, Lund and LTH to continue being successful in semiconductor technology are:
Education – the importance of ensuring that there are enough people studying to get their Master's in Engineering and who have access to teachers with cutting-edge skills.
World-leading infrastructure and innovation ecosystems – such as the investments in Brunnshög and Science Village in Lund, but also the need for new laboratories and test beds. Research is the hub of an innovation ecosystem, where companies grow and new ones emerge.
Active European co-operation – Sweden needs to be an active partner in various European initiatives and collaborations.
Swedish industry can be a winner in times of green transition – advanced technology is needed to make that transition.
Lars-Erik Wernersson says that Europe lags behind Asia when it comes to the development of technology needed for AI. We have 20 nanometer nodes and are aiming for 5 nanometers in the future. In Asia, it is already down to 3 nanometers.
"Sweden needs to be an active part of European co-operation. Skillfully programmed algorithms that control are very important, but one cannot ignore the importance of hardware. Whoever has the best hardware wins in the end, and here Sweden can contribute to innovations of new materials and systems," he says.
LTH has played an important role in its long-term work to develop new semiconductor technologies, even at times when many people thought it was "unnecessary" when you could buy such technologies cheaply from other manufacturers instead.
"Now we see the consequences of that way of thinking when industries have stopped production because of component shortages. But the possibilities are great that Lund University and Sweden can be leaders in the semiconductor technologies of the future," says Lars-Erik Wernersson.
Successful innovations from Lund
Examples of successful innovations in semiconductor technology from LTH in co-operation with companies:
Bluetooth
Acconeer AB (radar sensor)
Hexagem (semiconductor of gallium nitride on silicon substrates for power electronics)
Glo/Nanosys (nano-LED display technology)
Xenergic (energy efficient memory technology)
BeammWave AB (5G antenna technology)
NordAmps (millimeter wave frequency transistor technology)
Aligned Bio (waveguide technology with nanowire platforms for biosensors)
Semiconductors
Semiconductors are materials that can be controlled so that they either conduct electrical current or not. This allows them to be used as a kind of very small switch, called transistors, in computer technology, among others. The current is on or off, which corresponds to 0 and 1 in the binary number system, the system that computers use. Transistors are the most important component in all modern electronics. The computer chip can be said to be the "brain" of electronic products and systems.
Lars-Erik Wernersson
Lars-Erik Wernersson is Professor of Nanoelectronics. Among other things, he has received an ERC Advanced Grant for the integration of new materials into high-performance, energy-efficient transistors and circuit solutions of the future. He is leading an EU project to develop cooled electronics for quantum computers. He is also developing a new nanowire transistor with an integrated memory circuit.
Lars-Erik Wernersson's profile in the Lund University Research Portal
Nanometer nodes
Processors, for example, are manufactured on a process node and when you can make them smaller, in most cases it means that more transistors can be accommodated on the same surface – something that offers new possibilities for the performance and energy efficiency of a circuit. This happens at the nanometer level, where in Europe we are presently working with 10 nanometer nodes, but the goal is to create ever smaller circuits.
III-V technology platform
The III-V platform refers to materials found in groups three and five of the periodic table. These are characterized by very good transport and optical properties.