Study plan
You must follow a full time study plan of 30 credits each semester to be accepted for exchange studies at the Faculty of Engineering LTH.
Keep in mind that:
You should aim to have a well-balanced study plan with an average workload of 15 credits in each study period.
You are allowed to combine courses freely from the different engineering programmes. It is your responsibility to check and verify the specific requirements for each course and prepare your schedule. Under "Find exchange courses" in the menu, you will be able to find the courses that are being offered as well as information about schedule.
Once your study plan has been confirmed, you will be registered in the Lund University study documentation system (Ladok) for the courses that have been pre-approved by the professors. You will receive more information on Pre-Registration Day, after your arrival in Lund.
Examples on how to disposition your courses (engineering):
---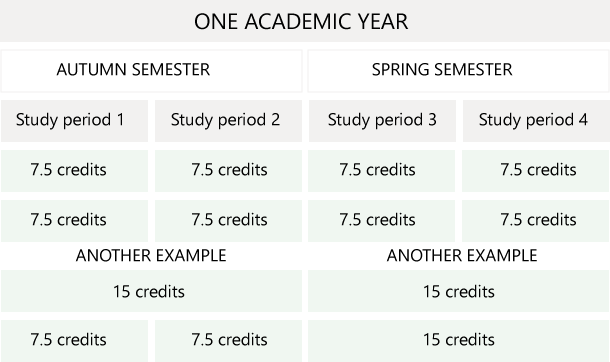 ---
The illustration shows an example of how you can divide your courses over a study year. One example is four courses á 7.5 credits per semester. Another example is one course á 15 credits, and two courses á 7.5 credits each per semester. A third option is two courses á 15 credits per semester.
Please think carefully when preparing your study plan. The Faculty of Engineering LTH does not have an Add & Drop courses period. Changes in the study plan for the semester after the deadline (check "Preparing for your exchange" in the menu) are in general not accepted!
Discuss your choice of courses in terms of validation with your home university before including alternative courses.
The semester at LTH is divided into two study periods. Some courses are given over the whole semester, and most courses are only offered once a year.
Autumn semester:
Study period 1 (sp1): September – October
Study period 2 (sp2): November – January
Spring semester:
Study period 3 (sp3): January – March
Study period 4 (sp4): April – June