Previous Honorary Doctorates
Dana Cuff
Dana Cuff is a professor and researcher in urban architecture at the University of California, Los Angeles, where she also founded and directs a think tank for architecture and urban research focusing on the 21st century world metropolis and how this can evolve towards more sustainable and equitable living environments. Dana Cuff has held the Lise Meitner Professorship at LTH, been an advisor at the Royal Swedish Academy, a visiting professor at Chalmers University of Technology and has received both research and teaching awards.
John C. Doyle
John C. Doyle is a professor and researcher at the California Institute of Technology with a focus on dynamic control systems. He is the author of leading textbooks and his contributions for LTH have included numerous visits, seminars and courses in Lund. John C. Doyle has also enabled an active exchange of researchers between the California Institute of Technology and LTH. About a dozen of the doctoral students from Automatic Control at LTH have been on doctoral exchanges with Doyle, and almost as many of Doyle's doctoral students have been guest researchers in Lund. Several of the former doctoral students are now professors at different internationally universities.
Nils Hannerz
Nils Hannerz is Head of Research and Innovation at IKEM (Innovation and Chemical Industries in Sweden). Nils Hannerz has promoted LTH's positions in circular and bio-based economy and nanotechnology. He is involved in the advisory board of LUBIRC (Lund University Biobased Industry Center) and contributes to strengthening applications, activities and collaborations, including in SwedNanoTech, SusChem and the reference group for industrial use of MAX IV and ESS.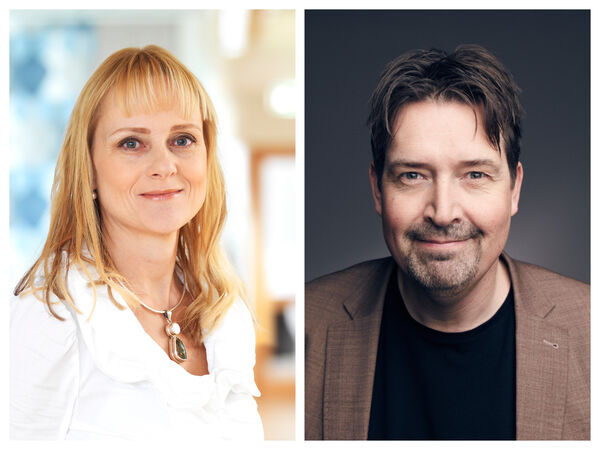 Kerstin Lindell
Kerstin Lindell has been working at Bona AB since 2006 and is Chairman of the Board. Bona is a global company in the flooring industry and one of Sweden's few remaining polymer-producing companies. Since 2020, Kerstin Lindell has also been chairman of the Chamber of Commerce and Industry of Southern Sweden.
Johan Wester
Johan Wester has a long career as a comedian, actor, and host of shows and events behind him. He is also very involved in issues concerning the future and the role of science. He runs the company Skånemotor, which is a relationship generator, idea workshop and project engine which creates both business opportunities and benefits to society.
Camilla Modéer
Camilla Modéer has for many years been involved in the research center NanoLund. For example, by chairing the NanoLund reference group and actively participating in annual scientific meetings and networking meetings with industry and the surrounding community.
"She also gives us valuable feedback in the ongoing fundraising campaign for the new Lund Nano Lab and has provided valuable contacts," says Heiner Linke, professor of nanotechnology.
Camilla Modéer is also a member of the Royal Swedish Academy of Engineering Sciences (IVA), and a member of the steering group for the Technology leap (Tekniksprånget). Previously, she was a board member of LTH, a member of the steering group of the Swedish Industry Association (Sveriges industriförbund), and a co-founder of VA (Public & Science) and became its first director general.
Andreia Cathelin
Andreia Cathelin is a Technology R&D Fellow at the company STMicroelectronics in France where she works with the development and design of circuits for radio communications and systems with extremely low energy consumption. She has scientific excellence in a field relevant to LTH, according to Ove Edfors, professor of radio systems at the Department of Electrical and Information Technology. Andreia has for many years been involved in the department's research and education in her role as a board member of our Industrial Excellence Center in System Design on Silicon (SoS). She has also worked as a role model and her large international contact network has opened doors for new research collaborations. She has also contributed to unique opportunities for researchers at LTH to manufacture advanced integrated circuits.
Peter A. Vanrolleghem
Peter A. Vanrolleghem researches several types of water systems, including urban wastewater systems and their effects on lakes and watercourses, transport and recycling of nutrients, micro-pollution and greenhouse gas production from wastewater treatment plants - primarily through his expertise in the areas of modeling, regulation and simulation. This is also a strong research area at LTH.
"Vanrolleghem has been a regular mentor, inspirer and advisor at LTH for 20 years, and has altogether spent about 18 months with us on a pro bono basis." says Ulf Jeppsson, associate professor at the Department of Industrial Electrical Engineering and Automation (IEA). "Among other things, he has participated in several research projects, supervised doctoral students and post-docs and produced a number of scientific articles together with several researchers from Lund University."
Vanrolleghem is an internationally recognized name in the field of water research and is, among other things, a "fellow" in several international water organizations, such as IWA and WEF.
José van Dijck
Professor José van Dijck is appointed honorary doctorate for her outstanding achievements in the boundaries that exist between technology and social sciences.
From a humanist perspective, Van Dijck highlights the societal context for digital systems. With a good understanding of technical and economic conditions, she analyses theat created by society on and through global digital platforms and gives new perspectives on issues related to artificial intelligence, ethics and the complex relationship between news, social media and human actors.
Tord Kjellström
Professor Tord Kjellström is appointed honorary doctorate for outstanding research and dedicated dissemination of knowledge in areas related to climate, environment and global health.
Kjellström has worked for WHO, Sida and other organisations with issues of fair health. His pioneering work on the health effects of heavy metals has been translated into global recommendations and national occupational health and safety legislation. Kjellström's ongoing research concerns climate change from a public health and socioeconomic perspective using studies of how working conditions, health risks and productivity are affected by increased exposure to heat.
Arne Staby
Dr Arne Staby is appointed honorary doctorate for his internationally successful and strategically important work within the subject areas of biological medicine and biotechnology.
Staby is a central figure in the international scientific community and works with global pharmaceutical companies to improve the safety and accessibility of biological medicines. His long-standing involvement in the collaboration with LTH has been very important for research in this field. Through clear communication with Lund University/LTH research, Staby has been an ambassador for the university and faculty in the important areas of life science and pharmaceutical production.