Sweden needs to boost STEM – and solve the skills issue
If Sweden is to successfully manage major transitions in areas such as digitalisation, energy, new advanced materials and drug therapies, there is a need for new, long-term investment and more places on engineering study programmes, writes LTH's dean Annika Olsson.
– Published 8 February 2023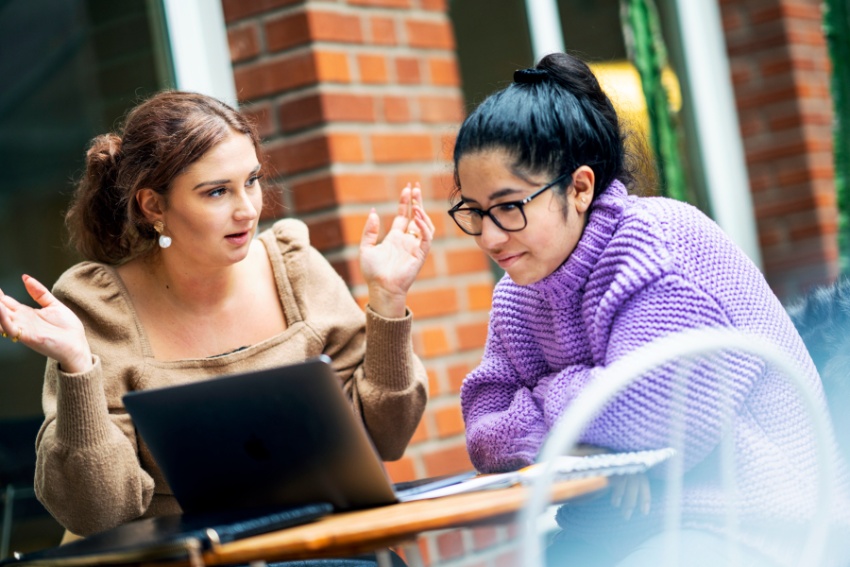 The other day, I had the privilege of participating in a panel debate arranged by Teknikföretagen (the Association of Swedish Engineering Industries) as part of Science Week in Södertälje, concerning how the skills shortage in Sweden needs to be solved by focusing on STEM (Science, Technology, Engineering and Mathematics) – from childhood, through primary school to higher education.
If Sweden is to successfully manage major transitions in areas such as digitalisation, energy, new advanced materials and drug therapies, there is a need for investment and more places on engineering study programmes.
This, and how we can be better at creating interest in engineering among young people, was discussed in the debate, which was attended by the Minister for Education Mats Persson. Below is what I personally want to emphasise, in the hope that Sweden will boost engineering subjects or STEM and meet the need for skills provision in the future:
Create interest in engineering among young people
Creating interest in engineering, conveying the message that both girls and boys possess the ability and that everyone can study engineering even though, for example, their parents did not – these aspects are very important for making more people interested in studying an engineering programme. To succeed in this, we need to start far earlier, in primary school, and also work with teachers, parents and study advisors.
At LTH, around 1,400 new engineering students start every year, and 36 per cent of them are girls, which is the same percentage that have entry qualifications from upper secondary school. However, there is an imbalance within programmes at LTH, as only around 15 per cent study computer science and electrical engineering.
Another important imbalance in society is that over 60 per cent of those who apply to engineering programmes have parents who pursued higher education – so tradition within the family carries weight in choices relating to education and the future.
We need to get in contact with those young people who have high grades but no tradition within the family and talk to them about engineering programmes and the future. In this respect, schools, society and universities have a shared responsibility.
New areas of technology require new education initiatives
I am pleased that LTH has a high level of applications for our study programmes and that we fill our programme places. At the same time, industry is crying out for more engineers, mainly within digitalisation, energy transition and materials development.
Coping with this skills shortage and society's transition requires new investments in study programmes in subjects such as advanced materials, electromobility and medical technology. Digitalisation – which has spread to all sectors – also creates a considerable demand, so considerable that we cannot educate at the rate required by industry.
For us to succeed in this, and for Sweden to continue its growth trajectory, there is a need for new initiatives, as the programmes we already have are sought after and our students have prospects in a good labour market.
In short – and I address this to Sweden's Minister for Education Mats Persson – there is a need for long-term investment and new places on study programmes to meet the requirements of new areas of technology and transitions.
What do engineers do, and why do we need them?
If we increase the number of new study programmes and programme places, we need to persistently continue efforts to engage young people's interest in engineering and the enjoyable and stimulating jobs that await after a programme.
I think that industry and academia need to join forces – and talk about what engineers do. To be credible, the industry needs to describe in more detail the different types of jobs that are needed now and in the future. And where the jobs are needed! And academia needs to describe how a programme leads to these jobs. Our message will be stronger if we deliver it together.
These jobs, like the programmes, should also be described from various perspectives, and communication about them needs to be adapted to specific target groups. There are many aspects of the engineering profession that can attract many young people: sustainable development, community building, the green transition, and creativity as an element in solving problems.
What does an engineer actually do? How could we together describe the role, the work and the context in a broader and more attractive way than academia and industry can separately?
Annika Olsson
Dean of LTH
Science Week
Science Week is an annual societal forum, focusing on sustainable development, sustainable production and urban development. The organisers are Södertälje Science Park in cooperation with KTH, Scania, AstraZeneca, Södertälje Municipality and some 40 other organisations.