Management and organisation
X-Lab has an organisation that assures that everything we do is taken care of in an efficient and effective way.
Staff
Director (10%): Charlotta Johnsson
Deputy Director (5%): Anders Warell
Project-coordinator (75%): Claes Dorthe
Service-assistant (50%): Peter Schamaun
Head of Student-Core (50%): Andrej Zemtsovski and Mathilde von Gertten
Organisation
Our organisation is shown in the figure below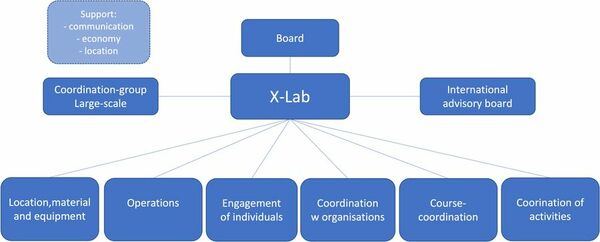 The organisation is structured in a number of groups, each one targeted to a dedicated task, and each one headed by a group-leader. The group-leaders form the management-team.
Location material and equipment
Group-leader: Claes Dorthe
The main task of this group is to plan for the physical location (incl. design, construction and building) and procurement (equipment and material) for X-Lab, including the planning of X-Lab large scale. There entire construction of X-Lab, with its characteristic modules made in wood and plexi-glas, is designed and built by this group.
Operations
Group-leader: Peter Schamaun
The main task of this group is to assure that the everyday activities are carried out in a well-organised manner.
Student Core
Group leader: Andrej Zemtsovski and Mathilde von Gertten
Student Core is a group of students that manages activities for students and other visitors. This group is also responsible for making students and collaborators aware of X-Lab and our upcoming activities. The Student Core Group currently consists of approximately 15 students.
Coordination with organisations
Group leader: Anders J Johansson
This group coordinates with other external organisations in order to find out if/how we can collaborate.
Course coordination
Group leader: Anders Warell
This group manages the coordination of courses activities at X-Lab. There are a number of courses at LTH and LU that includes innovation-related activities and where X-Lab can be a valuable location for course activities.
Activity coordination
Group leader: Anders Warell
The main task of this group is to sculpture new activity-concepts, i.e. the group discusses when a new activity can be launched, which is the target group, financial aspects, marketing needed, etc.
Board
X-Lab has a board consisting of 8 members
Martin Tuner (Chair): Assistant Dean LTH
Charlotte Sjödell: Design Sciences LTH
Monica Almqvist: Science Center LU
Ylva Lidin: Venture Lab, LU
Thomas Kalling: Sten K J Centre for Entrepreneurship, EHL
Maria Andersson: Corda AB
Filip Vannfält: Student organisation TLTH
Charlotta Johnsson (adjunct to the board): X-Lab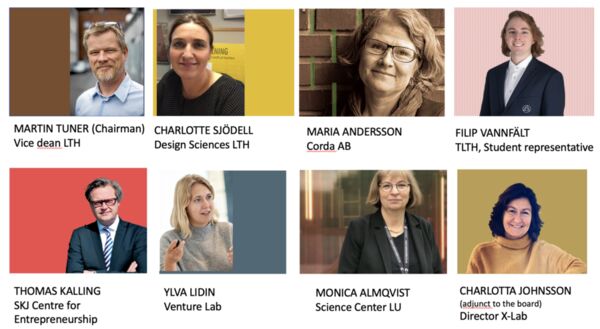 International Advisory Board
Soon to be announced